Opening new Zhafir plant
2015-05-20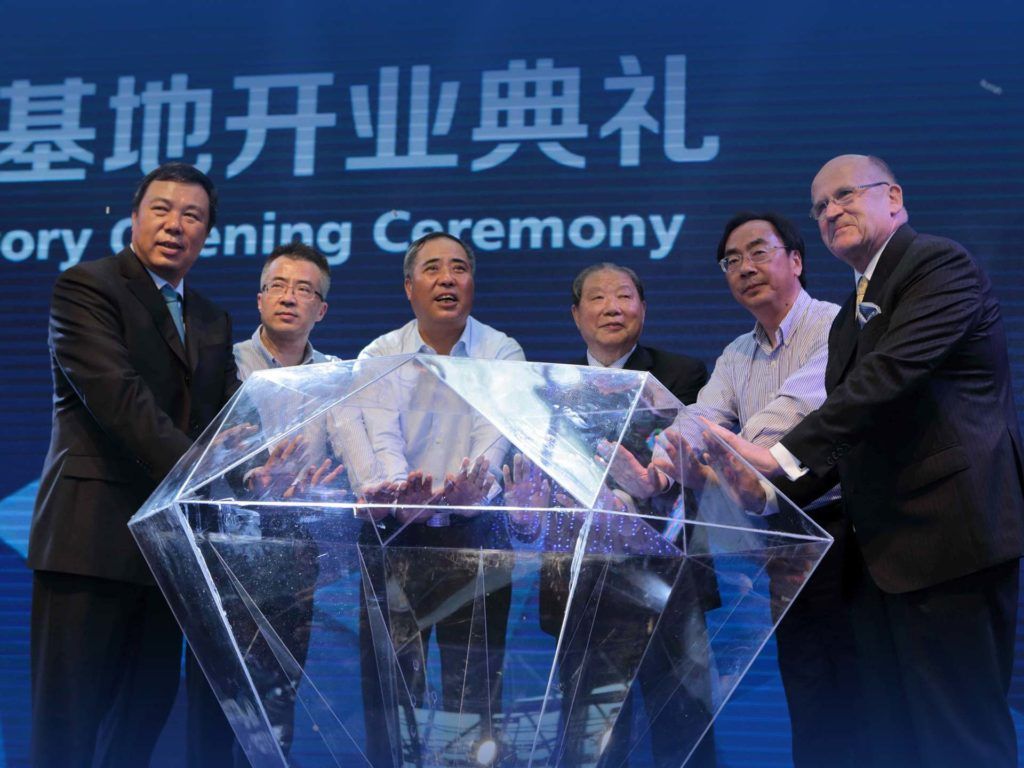 Zhafir Series: ZHAFIR PLASTICS MACHINERY OPENS NEW PLANT IN NINGBO, CHUNXIAO, CHINA
18th of May 2015 marks yet another milestone in Haitian International's and its premium brand Zhafir success story: Zhafir Plastics Machinery is opening the first section of its new Chinese plant in Chunxiao, a suburb of Ningbo.
The Grand Opening was attended by more than 650 guests. There were systems partners, sales partners and numerous customers, including renowned processors from China and about 200 guests from overseas. At 10:28 the official ceremony was starting with welcome addresses of the entire top management. Finally Mr. Zhang Jingzhang, the Chairman of Haitian Group, gave the official "green light" for the new Zhafir factory and an impressive firework rounded up the ceremony.
After a construction period of 15 months, the finished complex offers a production area of around 120,000 m². Here, about 400 employees and will in the future manufacture as many as 5,000 Zhafir electrical injection-molding machines per year. Mr. Qin Mingbo, Deputy General Manager and in charge of sales at Zhafir Plastics Machinery, comments: "With this new setup we see a great future for electric machines." Total area for the plant's buildings is planned for approx. 300,000 m², with a maximum production capacity amounting to 10,000 machines annually.
The plant includes departments for R&D (about 50 engineers), a technology and application center, machine testing, metal processing, and sheet-metal processing, and for a paint shop and machine assembly. Mr. Fu Nanhong, General Manager of Zhafir Plastics Machinery and responsible for the R&D mentioned: "The production will focus first on the successful Venus Series and the new Zeres Series. Other models will gradually be added to the portfolio."
Lean production in accordance with international standards
With the new Chunxiao plant, the management of Zhafir Plastics Machinery sees the realization of a highly cost-efficient manufacturing concept that makes it possible to reduce production times drastically while continuing to guarantee high-quality production. Thus, for example, a decentralized paint shop is installed upstream of production/final assembly in order to handle castings, sheet-metal parts, and machine beds on demand, i.e. not until they are needed. Several decentralized warehouses located directly adjacent to the individual sub-assembly modules will reduce internal transportation routes and supply times, enabling a more transparent management of inventory.
"The key to this extreme increase in work efficiency is our modern sub-assembly production", says Mr. Fang Jiangting, Deputy General Manager and responsible for the entire production. "The concentration on sub-assembly stations for injection units, clamping units, control cabinets or machine beds reflects our modular approach concept while incorporating our high standards of quality. Here, all sub-processes are thought out efficiently and controlled by qualified employees". Reorganization of final assembly, tests, and shipping is also part of the process optimization. Final assemblies that include extensive quality controls on conveyor belts and assembly lines further reduce production times. For machine test runs, a separate department has been created in order to guarantee high quality at final inspection as well.
For the European market, Zhafir machines are assembled and customized in Ebermannsdorf, Germany. Further expansions of capacity in Germany are also planned. Furthermore, Zhafir Plastics Machinery's German R&D team works on new innovative electrical machine concepts in close cooperation with their colleagues in Chunxiao.